United Way of York County has a Bold Goal to help 3,000 York County families achieve financial stability by 2030. In thinking through how to best improve the financial situation for the citizens of York County, the UWYC staff identified a Target Population. All programs funded by UWYC's Financial Stability initiative must include at least one of the following: Individuals who are low income (up to 200% FPL) or living in poverty; Individuals who are unemployed, underemployed, or not earning income at the Self-Sufficiency Standard for family size.
In October 2020, UWYC staff received our first round of Quarterly Reports from our funded agencies. Preliminary reporting shows that we are on track and serving our Target Population.
INCOME
56% of clients served earned less than $25,000 per year.
According to the 2020 Self-Sufficiency Study for SC, for a family of three (one working parent, one preschooler, and one school-aged child) living in York County, the annual wage required to be self-sufficient is $50,746 annually, meaning we are serving clients who earn well under the self-sufficiency standard for SC.
The official poverty measure, the Federal Poverty Line, developed half a century ago, is now methodologically out of date and no longer accurately measures the ability to provide for oneself and one's family—at best it measures "deprivation." For the same family of three, the wages earned at the Federal Poverty Line are $21,720 per year. 77% of clients served by UWYC are low-income and earn up to 200% of the Federal Poverty Line. The overall poverty rate in York County is 17.67%. This data shows that UWYC funded partners are in the community helping those who need it most.
EMPLOYMENT
53% of clients are underemployed or earning less than the self-sufficiency standard for their family size.
Employment is a strong indicator of financial stability. Though the unemployment rate was 4.5% in York County in 2016, 21% of all workers were under-employed, meaning they do not have enough paid work or are not doing work that makes full use of their skills and abilities. Underemployed workers have a job, but their income is not enough to cover their needs. We refer to this group as "the working poor".
COVID-19 changed the landscape for working families in York County. In March 2020, the York County unemployment rate was at 2.9% by May 2020, it had jumped to 12.5% and in August it was still at 7.2%. The industry groups with the largest number of unemployment claims include accommodation and food services, administrative support and waste management, health care and social assistance, manufacturing, and retail trade- those who were already struggling to make ends meet.
Our preliminary findings show that UWYC Financial Stability partners are doing their part to serve those who are unemployed and underemployed in York County. 47% of clients served so far this year are unemployed. This means they are able-bodied and looking for work, but unable to find it. 53% of clients are underemployed or earning less than the self-sufficiency standard for their family size.
EDUCATION
72% of clients served this quarter have a high school diploma or less.
19% of those over the age of 25 with less than a high school degree and 10% of those with a high school diploma are living in poverty in York County. We know that education often opens the door for opportunities that lead to higher wages.
By encouraging clients to get a G.E.D, or enroll in a license or certificate program, UWYC Funded Partners are setting them on the path towards the Bold Goal of financial stability.
RACE
While race alone is not a determining factor for poverty, data in York County shows that 16% of African Americans, 7% of Caucasians, 8% of American Indians or Alaska Natives, and 4% of Hispanics are living in poverty in York County.
When we look at the race breakdown of the county itself, we see that while African Americans make up only 19% of the county population, 28% of clients served this quarter are African American. This means that UWYC Funded Partners are serving those with the highest rates of poverty in our county at a level that exceeds their representation.

As part of our Bold Goal, UWYC has identified two root causes of poverty that will be addressed in our efforts to move York County families towards Financial Stability: Financial Literacy and Underemployment.
IMPACT AREA: FINANCIAL LITERACY
Our goal, in this first phase of funding, for our Financial Literacy partners is to track the number of participants who increase their knowledge of financial literacy practices and implement sound financial practices. Our Financial Literacy partners reported the following data as part of their Quarter One Reports: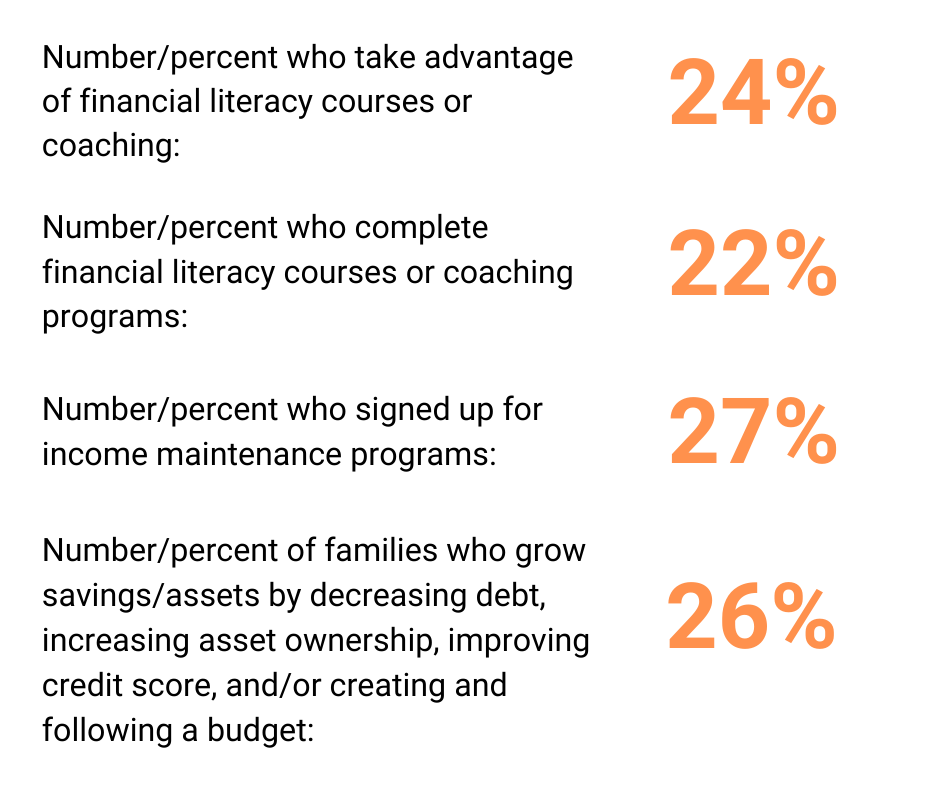 IMPACT AREA: UNDEREMPLOYMENT
Our goal with Underemployment is to count the number of participants who are enrolled in job training programs. Our Underemployment partners reported the following data as part of their Quarter One Reports: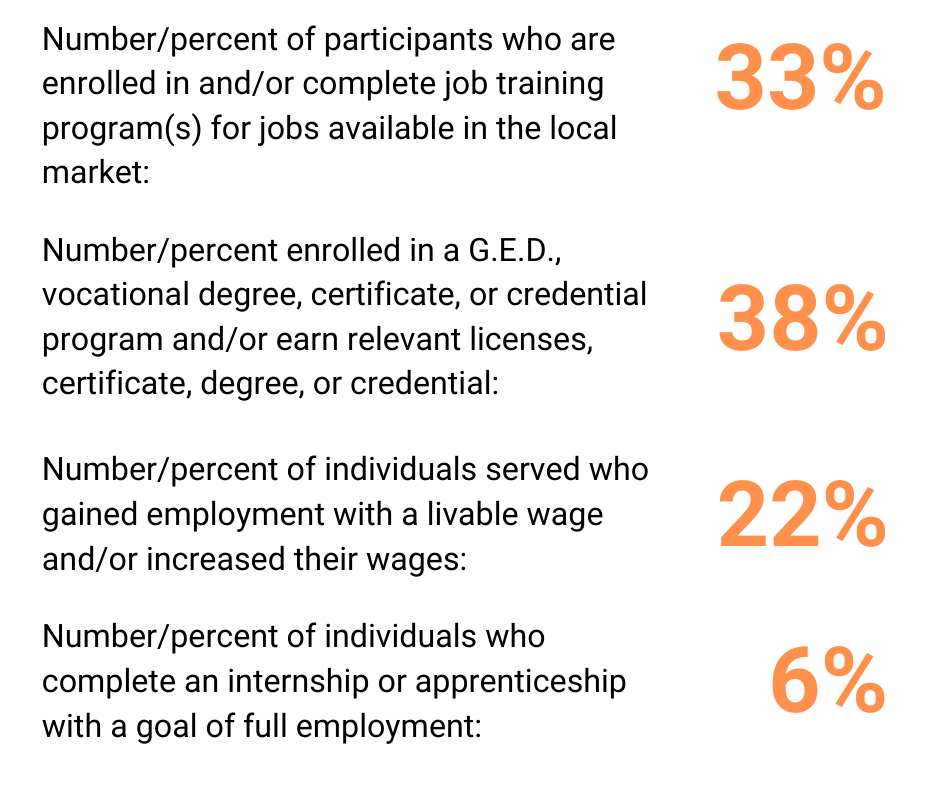 CONCLUSIONS
While it will be some time before we are able to report on our Bold Goal number of families who have achieved financial stability in York County, we are pleased with our findings. Our preliminary reporting on our Quarter One data shows that we are heading in the right direction in working with our partners to provide much-needed services to the most vulnerable in York County.